Glassridge Hard Money Loan Resources
Hard Money Loan Resources
Financing Real Estate Investments
This is where we at Glassridge give our clients a definitive overview of not only the services we offer, but general knowledge of the entire Real Estate industry, including:
Why Invest In Real Estate?
What Kinds Of Investment Financing In Real Estate?
Types Of Real Estate Investments
Hard Money Loan Definition
Cultivate a working elementary knowledge of what exactly a Hard Money Loan is with this in-depth and comprehensive definition page.
Also including:
Who needs Hard Money Loans?
Potential uses for Hard Money Loans
Who should borrow Hard Money?
Hard Money Loan Rates
Although Glassridge works with individuals to try to get the best deals for our clients, and because of this, has case-by-case specific rates, this page will give you a very easy to understand and comprehension-driven view of the broad rates that we offer.
Real Estate Hard Money Loan Guide
This is an all inclusive guide to Real Estate Hard Money Loans. We have helpful resource tools including:
What is a Real Estate Hard Money Loan?
How to get a Real Estate Hard Money Loan?
Where to find Real Estate Hard Money Lenders?
Real Estate Hard Money Loans FAQ
Do you have questions about Real Estate financing? This is the perfect place for you to get solid, transparent and candid answers to all of your inquiries regarding Hard Money funding for real estate from Glassridge.
What Is A Hard Money Loan for Real Estate
This resource page explains, in simple and direct terms, exactly what a Hard Money Loan for Real Estate really is, and why it is the best choice for our clients. At Glassridge, we pride ourselves on being straight forward and clear with our clients. We do this in order to provide them with the not only the best deals in the industry, but also with a working knowledge of why they are used to help thousands of investors.
This Post Originally Appeared In...
How To Close Faster & Get Better Rates
By Marshall Hatfield, Glassridge CEO.
This article is part of a series on the Glassridge Blog revealing the entire Hard Money Borrower's Guide (an 80+ pg ebook & 150+ pg hard back), chapter by chapter, so that everyone can more freely access & share the information any place, any time.
The Hard Money Borrower's Guide includes basic intros to a wide variety of investment strategies, with a focus on creative real estate investment financing. In it you'll find brutally honest Pros & Cons for all your funding options, as well as a variety of insider's tricks, including...
✓  Basic real estate investing 101 tips, like when you should Fix & Flip vs. when it's better to Buy & Hold.
✓  The 5 main types of investment properties, and the strengths & vulnerabilities of each.
✓  "Should I diversify by investing in different property types?" An experienced Investor's no BS asessment.
✓  How to triple your cash-on-cash ROI using financing, and when you should NOT do it.
✓  The 4 types of real estate financing, and why you need to be using a combination of all four.
✓  Tools to maximize profit as a Borrower, including a behind-the-scenes look at how your Lender thinks.
✓  Passionless, factual, and thorough breakdown of bank loans vs. alternative financing.
✓  Beginner's overview of Private Hard Money Loans, including the unique 3 Hard Money LTVs.
✓  Outline of 10 specific scenarios when you need to use Hard Money, and how to make sure you get funded in each.
✓  The 7 keys to guarantee your loans close fast, and tips to accomplish them before your next real estate transaction.
✓  How real estate VIPs secure the best possible loan rates, and what you can do right now to start stealing their secrets.
✓  An exclusive special offer, reserved  for those with their full-length copy of the Hard Money Borrower's Guide.
You can instantly download the entire 80+ page offline PDF version of the Hard Money Borrower's guide right now, for free.
Check it out here: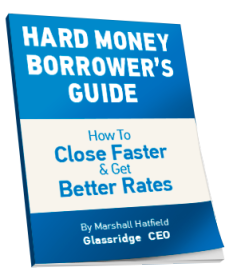 Download the complete
Get instant access to the comprehensive benefits listed above, plus receive direct emails from the book's author, Glassridge CEO: Marshall Hatfield.
Rather View The Guide Online, Chapter by Chapter?
There is another option, if you'd prefer to piece the Hard Money Borrower's Guide together, chapter by chapter, by viewing it all online at Glassridge.com.
Over the last couple years, we've been sharing the Guide, one chapter at a time, on the Glassridge blog. If you'd prefer to view the chapters one by one, all through this website, you can also check out the 100% online:
Thanks for reading, and best of luck in your future real estate investments!