Hard Money Loans – Real Estate Hard Money Loans
Hard Money Loans – Real Estate Investment Loans – House Flipping Loans
Glassridge assists real estate investors with obtaining real estate investment loans. Our co-founders are real estate investors themselves and are familiar with the current state of real estate financing and what types of deals are being offered. We differ from traditional institutions in that we utilize private equity funds and other private funding sources to provide our clients with the best funding options. As we use our own funds in conjunction with private equity partners and funders, we are able to to close swiftly and professionally. Our goal is to provide some of the best rates and terms in the industry, coupled with attention to detail, transparency, integrity and fast turn around times.
Whether you're looking to buy and hold, fix and flip, rehab a property, or refinance your portfolio, Glassridge will get you funded. We are building a systematic, nationwide Hard Money Loan pipeline to ensure investors will get the funds they need and get the best results from their real estate investments.
Getting A Hard Money Loan: How It Works
Our real estate hard money loan application process is very simple and straightforward. If you want to apply for hard money financing for your real estate deal(s), start here.
As you research your options for Hard Money Loans, your first criteria will be determining which type of hard money financing you require. Glassridge will connect you to hard money loans for all types of scenarios, which include:
Construction Loans
And more…
Even if you're unsure regarding the exact loan you require, you can still begin the Hard Money Application process here to get a call back from one of our pre-qualifying intake specialists.
Our Real Estate Hard Money Application Process
Once we've determined the right real estate hard money loan for your situation, the next step will be assisting you through the application process. As you can imagine, there is some paperwork that needs to be provided which can vary state by state. The paperwork also varies in terms of length and complexity depending on the type of loan requested. Regardless, Glassridge will be there every step of the way with a dedicated and personal underwriter to assist you.
Here are some of the required documents:
Past real estate transaction info
Current real estate portfolio / income info
Basic tax info (previous year filing)
Details of property requested to be funded
We have streamlined techniques that make the process as quick and painless as possible. Your intake specialist will get the process started, and your transaction coordinator will walk you through step-by-step to ensure your funding closes. If you don't succeed neither do we, as we don't get paid until your loan closes and you receive your capital.
At Glassridge, we look to create and maintain long term relationships with our clients and offer discounts for multiple deals. We are determined to be the largest supplier of Hard Money Funding in the nation.
This Post Originally Appeared In...
How To Close Faster & Get Better Rates
By Marshall Hatfield, Glassridge CEO.
This article is part of a series on the Glassridge Blog revealing the entire Hard Money Borrower's Guide (an 80+ pg ebook & 150+ pg hard back), chapter by chapter, so that everyone can more freely access & share the information any place, any time.
The Hard Money Borrower's Guide includes basic intros to a wide variety of investment strategies, with a focus on creative real estate investment financing. In it you'll find brutally honest Pros & Cons for all your funding options, as well as a variety of insider's tricks, including...
✓  Basic real estate investing 101 tips, like when you should Fix & Flip vs. when it's better to Buy & Hold.
✓  The 5 main types of investment properties, and the strengths & vulnerabilities of each.
✓  "Should I diversify by investing in different property types?" An experienced Investor's no BS asessment.
✓  How to triple your cash-on-cash ROI using financing, and when you should NOT do it.
✓  The 4 types of real estate financing, and why you need to be using a combination of all four.
✓  Tools to maximize profit as a Borrower, including a behind-the-scenes look at how your Lender thinks.
✓  Passionless, factual, and thorough breakdown of bank loans vs. alternative financing.
✓  Beginner's overview of Private Hard Money Loans, including the unique 3 Hard Money LTVs.
✓  Outline of 10 specific scenarios when you need to use Hard Money, and how to make sure you get funded in each.
✓  The 7 keys to guarantee your loans close fast, and tips to accomplish them before your next real estate transaction.
✓  How real estate VIPs secure the best possible loan rates, and what you can do right now to start stealing their secrets.
✓  An exclusive special offer, reserved  for those with their full-length copy of the Hard Money Borrower's Guide.
You can instantly download the entire 80+ page offline PDF version of the Hard Money Borrower's guide right now, for free.
Check it out here: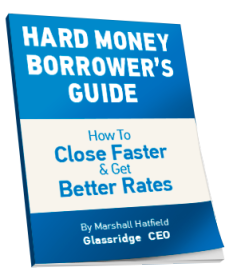 Download the complete
Get instant access to the comprehensive benefits listed above, plus receive direct emails from the book's author, Glassridge CEO: Marshall Hatfield.
Rather View The Guide Online, Chapter by Chapter?
There is another option, if you'd prefer to piece the Hard Money Borrower's Guide together, chapter by chapter, by viewing it all online at Glassridge.com.
Over the last couple years, we've been sharing the Guide, one chapter at a time, on the Glassridge blog. If you'd prefer to view the chapters one by one, all through this website, you can also check out the 100% online:
Thanks for reading, and best of luck in your future real estate investments!